Yup, that's right–free gas!  How?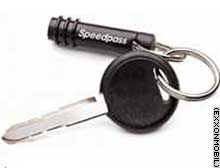 There are a few "catches," but none that require spending any money.  Exxon Mobil is offering a special for signing up (and activating) their Speedpass wand:
New Speedpass customers in FL, LA, MA, NC, NJ, RI and SC will receive a $20 ExxonMobil Cash Card (or a $20 ExxonMobil Credit Card statement credit if Speedpass is linked to an ExxonMobil Credit Card) for activating a new Speedpass account.
You can go here to sign up.  (Note: You do have to link your Speedpass to a credit/debit card.)  Once you receive your Speedpass, you must activate ONLINE in order to receive the gift card.)